]
Do you think it's safe to say that some part of most people would like to own a business? However, in the United States, the country with the world's most robust economy, less than 10 percent of the population are business owners. That's because you have to "pay the costs to be the boss."
Most new business owners quickly learn that it takes more than a great business idea to launch a successful enterprise. Each industry has different tools, strategies, and other variables impacting its start-up costs. So what, exactly, are the costs? We'll cover that and more in this brief guide to start-up costs for small businesses.
Funding
Getting funding for your business as a start-up is something you must prepare for. Before you apply for a business loan or meet with potential investors, you must have a business plan detailing your expected start-up costs, your business model, and when and how you can repay your business loan. Of course, as with any type of loan, your credit score factors into your eligibility for start up business loans. Also, you'll have to make a down payment ranging between 10 and 30 percent of the loan amount. It's wise to do your due diligence to find lenders with the best interest rates and lowest down payments.
Location
One of the first start-up costs to consider when launching your business is its location. The type of venture you're launching will determine the type of structure you'll need. Indeed, you could even launch operations from the comfort of your home if you're launching a service-based or e-commerce business. You can launch an e-commerce business from your home office (or couch), and business owners in a service industry can go to their customers, allowing them to save on overhead and charge higher prices for providing a premium service.
Technology
There are differences between a start-up business and a new small business, and the most important one is technology. Indeed, these days, almost all small businesses use some type of advanced technology for some of their business operations. However, start-ups differ in that they often provide digital products and services like Uber or Facebook. It feels odd to consider those two companies being start-ups due to their massive success, but both of those companies used technology to provide a new, unique customer experience.
Marketing
These days, digital marketing is the most effective way for small businesses to increase brand awareness and grow their customer base. This is great news for small business owners, as digital marketing is more affordable than traditional types of marketing. Indeed, you can launch a digital marketing campaign for free, but it's a good idea to invest at least $100 each month into building your online presence.
As you can see, launching a start-up business can be a costly venture, depending on your field of industry and what level of products or services you intend to provide. The first cost to consider is a location for your small business, but it's a cost you can skirt by working from home, especially if it's primarily an e-commerce or service business. It's wise to invest heavily in technology, as advanced tech is one of the things that separate start-ups and other new small businesses. Your company will also need budgets for supply chain management and marketing. Finally, consulting services can help you implement the most conducive organizational structure.
There are lots of costs to consider, so financial planning is vital. If you're planning on attracting investors or borrowing to raise the necessary working capital, you'll need to do market research and write a thorough business plan. Do your due diligence for each investment you make into your business to ensure the best possible ROI. Wise investing is one of the keys to growing your start-up into a Fortune 500 company.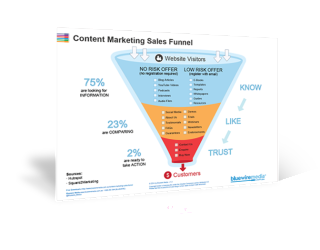 Content Marketing Sales Funnel
Your content marketing sales funnel is all about getting people to know, like and trust you by nurturing them with the right information at the right time.
Download it now