]
May 5, 2022
·
15 min read
We've rounded up the five video trends that innovative B2B businesses are embracing in the year ahead. (Hint: It includes expanding to new departments and use cases.)
In the last few years, nearly every aspect of modern business has gone through a digital transformation. In 2020, chaos ensued as organizations abruptly pivoted to a digital-first world. In 2021, the smartest companies got more intentional about crafting digital-first strategies, realizing these changes would become entrenched for years to come. In 2022, front-runners will continue to expand their digital-first strategies, while many later adopters will jump aboard by following video trends.
We've witnessed many industry evolutions and passing fads, but few opportunities have felt as significant as the one ahead of us. In this article, we're sharing our top five predictions for how video will evolve in 2022, including more video across the entire customer lifecycle, video as a core piece of the HR toolkit, and shifting customer preferences from ultra-polished to off-the-cuff.
Smart businesses have a unique opportunity to seize these trends in early 2022 to win over competitors this year and beyond.
Contents
Video Trend #1: Sales Videos Expand Further Down the Funnel
Many of today's highest-performing sales reps have caught on—especially in B2B SaaS—that video for outbound prospecting works beautifully. In fact, 43% of companies have reported using video for sales in 2021. Sales videos can be a powerful way to grab a moment of a prospect's time and stand out in an inbox stuffed with text-based emails. But in 2022, video is no longer just about getting prospects' attention. It's about a more meaningful way to answer their questions, show rather than just tell, and foster the relationships that sales and marketing teams fight so hard to get.
Video is one of the most flexible tools in the sales arsenal—and the highest-performing sales reps are increasingly using it at multiple points throughout the sales process to deliver an exceptionally smooth buyer's journey. By leveraging video throughout the entire sales cycle, sales reps can educate leads faster and more effectively to ultimately close more deals—and build meaningful relationships that will last for years to come.
How to Take Advantage of Video Trend #1
1. Create Personalized Videos for Different Members of the Buying Committee
While sales reps may justifiably be spending most of their time and energy with deal champions and budget holders, there are often key influencers in the background (IT, procurement, legal) who can still exercise considerable influence in the sales cycle. While you may not speak as much with them during calls, why not create a personalized video tailored to answer their concerns? By handling their objections, you can ease the process of creating consensus—and ultimately, close the deal.
2. "Show Instead of Tell" with Short Demos through the Buying Process
When prospects reach out with questions, sometimes the best way to answer them is with a quick demo video. Demo videos make up 50.6% of the videos created by sales teams, making it the #1 most valuable type of video for sales. What may take a sales rep 20 minutes to type out may only take a two-minute video to explain verbally with a screen recording of the product. Not only does it save time, but it's also often a more thorough (and enjoyable) way for prospects to learn. The time is now to upskill your team and get them proficient in video if you haven't already.
Innovators Leading the Charge With Video Trends
See it in Action
This Vidyard sales representative walks his prospect through a proposal that answers all their questions in a follow-up video email message.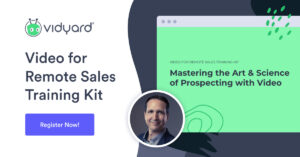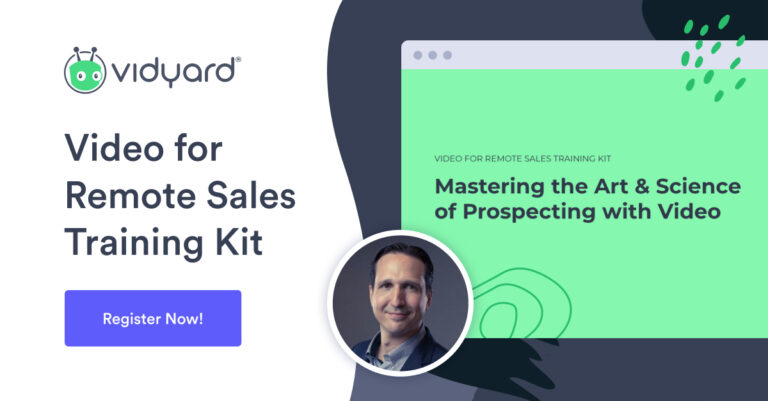 Help Your Remote Sales Team Shine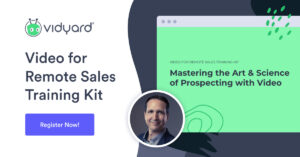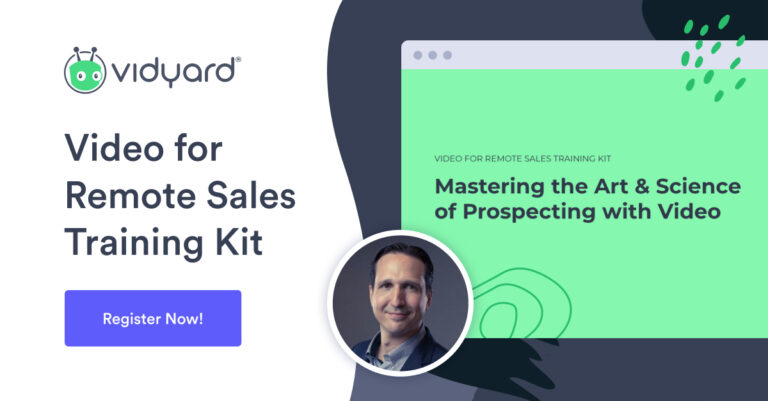 An all-in-one video selling resource to support your strategic planning, SKO, and ongoing enablement.
Get the Kit
Video Trend #2: Post-Sale Teams Embrace Video
Seeing the success of video for their pre-sale counterparts, folks involved in customer success and support are starting to embrace video as a shortcut for clear and personable communication. 35% of organizations have already started leveraging asynchronous video to support the customer experience and 75% of customer experience professionals say that video performs better. Video builds deeper relationships than emails alone, and customers also increasingly prefer asynchronous video over video calls. Customers are relieved that they can receive clear communication through asynchronous video without blocking off time to hop on a live call, and they will increasingly expect companies to satisfy this preference.
How to Take Advantage of Video Trend #2
1. Use Video for Post-Sale Support and Feature Announcements
Customer success and support teams should adopt videos to deliver the best possible experience. And they don't need a production studio to do it. It can be as simple as screen sharing or creating webcam videos to explain your product and offer education. Use video to answer your customers' questions, update them on new products and services, or make important announcements.
While video can sometimes intimidate those not accustomed to producing videos, pre-recorded videos, like screen shares or simple webcam videos can be powerful communication tools.
2. Use Video for Relationship-Building
In between video calls for quarterly updates, short video messages from customer success managers can add kindling to the fire of a strong relationship with clients. When it does come time to talk about renewal or a future opportunity, the CSM is not just an email address—they're a real person with a face and a voice, even if there haven't been many live calls.
Innovators Leading the Charge With Video Trends
See it in Action
In this quick and snappy video, Stephanie from IMPACT keeps customers in the loop with product and company updates. And going the extra mile for her customers, each update video is accompanied by a short email with links to the points she mentioned in the video!
Video Trend #3: HR Embraces Asynchronous Video
While the past couple of years has forced workplaces to get comfortable recruiting remotely, the most innovative teams are already pushing their video use cases further. Nearly every role in organizations is creating more videos this year than last year, and HR teams sit at a strong 5% increase. In 2022, clever HR teams are creating more asynchronous, on-demand videos to recruit talent, onboard new employees, and keep seasoned employees engaged. Much like go-to-market teams can use video at nearly every customer lifecycle stage, HR teams would be wise to leverage video at all stages of an employee's lifecycle.
How to Take Advantage of Video Trend #3
1. Onboard with an On-Demand Library
For many folks who started new jobs during the pandemic, the typical day-long HR orientations in-office have been replaced by a dreaded five-hour Zoom training. Instead, forward-thinking HR departments can do a short kickoff call to get acquainted and energize new employees, but then direct employees to an on-demand library for the bulk of the training. This resource library can address frequently asked questions for new employees, review company policies, and get everyone up to speed with core pieces of the tech stack.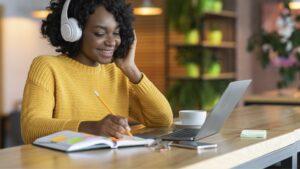 Onboard Your Sales Team With Video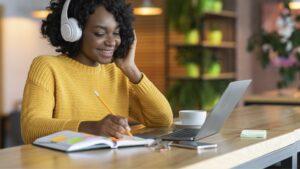 Sign up for a free account to create onboarding videos and share it all in one place.
Sign Up Free
2. Use Asynchronous Video Throughout the Interview Process
Some of the savviest job seekers have already used video to get a leg up on their job search. They'll hit record and explain why they're the perfect fit for the business to accompany their resume.
Similarly, HR teams and hiring managers can create short videos to showcase the culture and remedy the fact that remote candidates won't experience the company culture in person. Talent departments can invite leadership to record videos introducing the company's mission and vision. And hiring managers can even create personalized videos to entice candidates to accept offers.
3. Foster a Strong Company Culture with Video Updates from Key Executives
Since employees won't run into executives in the hallways while working remotely, many companies rely on video updates to make sure everyone is aware of wider company strategies. It's a light lift to create videos monthly or quarterly, but it can often be quite meaningful to employees.
Innovators Leading the Charge With Video Trends
See it in Action
The leadership team at Vidyard uses video to communicate critical updates and company announcements across the organization.
Video Trend #4: Customers Prefer Authenticity Over Production Value
Good news if you don't have fancy equipment or a large production budget—customers are giving you a 'get out of jail free' card. That's because they increasingly prefer casual, authentic videos. So you can leave the expensive boom mic and professional-grade lighting behind for much of what you're going to create.
What customers value is the substance of a video. (Even videos with expensive production can fall flat if they lack substance.) Provided you can deliver real value and solve customer problems within your video, it's becoming less necessary to have big studio set-ups to make an impact.
Authenticity also builds trust. It makes folks feel comfortable to let their guard down. Casual videos give audiences the impression that video producers are trustworthy and have nothing to hide behind slick video production. So sit in your kitchen or backyard, wear whatever you usually wear, and just be yourself. Engagement in that content will skyrocket.
How to Take Advantage of Video Trend #4
1. Balance Authenticity With Light Preparation
One of the challenges with video as a medium is that it's not as skimmable as text-based content. Therefore, you have to be hyper-aware of respecting your audience's time. If you hit record and take 12 minutes to explain something that could have taken three minutes, your audience is less likely to trust your content is worth the click next time. So take a few minutes to jot down key points, or do a practice run. A good rule of thumb is to make sure your video length is as short as possible but as long as necessary.
2. Determine Your Brand Voice
Figure out your company's video brand. In the same way you would choose the voice and tone of your blog and social media—what does your videos' voice, tone, and visual style look and sound like? Feel free to inject creativity, playfulness, or humor into your videos if it's in line with your brand voice—audiences will love it.
3. Incorporate Visuals to Represent Key Ideas
A concept that might take a couple of minutes to explain verbally might only take 10 seconds to get across if you have a visual on screen that you can point at. Using visuals at key moments will help you "be brief, be bright, be gone."
Innovators Leading the Charge With Video Trends
See it in Action
Sam Kean at Fresh Relevance recorded a creative video that weighed in on his prospect's product.
See it in Action
Joanne Munekawa at LinkedIn Marketing Solutions recorded a short song that could easily be shared with any of her future customers and prospects in this webcam video.
Video Trend 5: Event Recordings Are No Longer Treated as an Afterthought
People often register for live digital experiences they have little intention of attending live. And you may already know why—because most of us look to engage with content on our own time and at our own pace with an on-demand recording afterward.
Event producers will realize that on-demand video delivered post-event can no longer be an afterthought in the coming year. For many attendees, the video released afterward is their main event. It's like watching Netflix versus cable TV—audiences don't want to sit through commercials anymore. Instead, with on-demand replays, they can find the best time to engage, skip ahead to the sections that matter most to them, or listen at 1.5X speed.
On-demand video allows the audience an opportunity to forge their own learning paths. Smart marketers are catching on and giving their audiences more tools to educate themselves on their own time, in their own way.
How to Take Advantage of Video Trend #5
1. Include Jump Links, Title Cards, and Lower Thirds in Your Videos
If you know a portion of attendees will not attend your live event, cater your event strategy to include the needs of post-event viewers. Host your video on a platform like Vidyard that allows attendees to scrub through and find topics they're looking for easily. Include title cards or lower thirds to give helpful context, so viewers feel 'in the loop' even if they skip ahead. Include jump links in your description or add chapter marks directly to the video so viewers can skip ahead to the topics they care about most.
2. Keep Promoting Your Webinar After the Live Event
Since live events are no longer the "main event," it can be helpful to remind customers of the content they intend to engage with. Create teasers with the best clips from the event to entice folks to watch your event replay. Sharing these clips via social media and email will remind your busy audience to make time to watch.
3. Include CTAs to Relevant Content in the Description
Support your customers who want to forge their own learning paths by providing links to related resources in the video's description. This will remove the friction for prospects and customers who wish to research a topic in more depth and encourage them to become more qualified prospects or more sticky customers.
Innovators Leading the Charge With Video Trends
See it in Action
Tyler Lessard, author of The Visual Sale and VP of Marketing at Vidyard, hosted a virtual discussion on the future of video-in-sales and how to get ahead. After the webinar, the video was posted on our website for on-demand viewing and cut into a shorter version for our YouTube channel. The shorter version for YouTube includes a table of contents with chapter markers and jump links.
It wouldn't be a 2022 video trends report without the mention of Web3 and the Metaverse.
The truth is, 99.9% of businesses don't have to worry about scaling their Metaverse marketing just yet. Compelling videos with innovative design and storytelling should still be your focus. Your early investments in building these muscles will set you up for our Web3 future—whenever it may be. When the time comes, you'll be ready.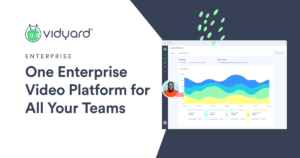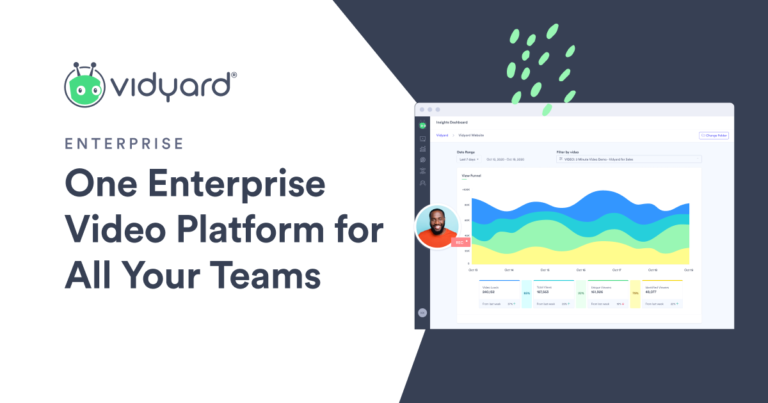 Online Video Platform Built for Business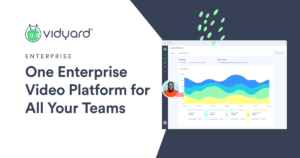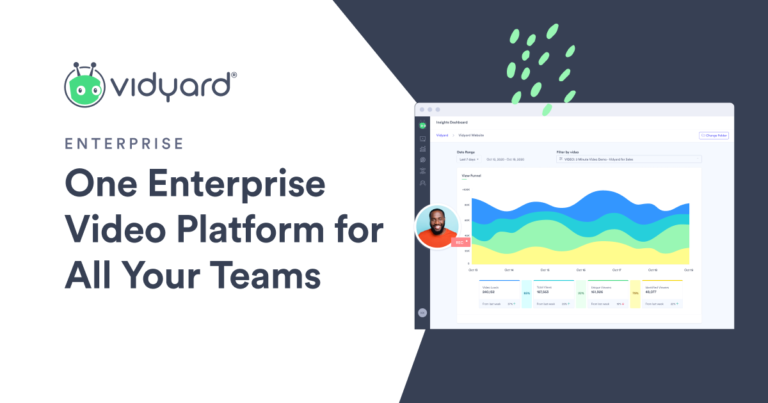 Enterprise video hosting and sharing solution that's built to meet your needs.
Learn More
Will You Be One of Next Year's "Innovators Ahead of the Curve"?
There you have it—our top predictions for this year's most important trends. Video is now being used to accelerate sales, retain customers, engage employees, and support other key initiatives that contribute to a company's bottom line.
What was once thought of as a clever trick sales and marketing used to catch eyeballs is now becoming an essential communication and relationship-building tool across entire organizations. In the coming years, the video landscape will continue to evolve. Still, one thing remains certain: Organizations that invest in video in 2022 will be far more likely to outpace their competitors in 2023.
This post was originally published on February 28, 2022. It was updated on May 5, 2022.